President's Message
For the Realization of Socio-environmental 四方よし "Shihou Yoshi"

(Good for the Sellers, the Buyers, the Society and "the Planet")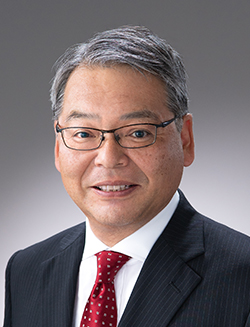 January 2023
While the ongoing COVID-19 pandemic continues to affect our society, the crisis over climate is ever mounting locally and globally.
Nikken Sekkei issued a "Climate Emergency Declaration" on March 19, 2021. This declaration is an appeal calling on society to seek a balance between economic activity and the realization of a carbon-neutral society from the perspective of the private sector.
In Nikken Sekkei Construction Management, Inc., based on our sustainability policy: "Through fair and transparent corporate activities in providing our management solutions, we aim to contribute to the realization of a sustainable society while enhancing our corporate value.", we are striving to achieve it under the following initiatives.
1. Environmental and social initiatives: internal and external activities directly led by our employees and management team.
2. Business oriented initiatives through stakeholders: management solutions providing to our clients.
As environmental and social initiatives, our reforestation "cutting-tree" activity is ongoing in Tenryu area in Hamamatsu City. We've also launched a new forest utilization program with Nishikawa town in Yamagata Prefecture.
As part of our commitment to our stakeholders through our business, in line with strategically launched "Sustainability & ESG Domain", we aim to enhance value in all of our business domains in our management solutions from the perspective of "E(Environment), S(Social), G(Governance)" + "DX(Digital Transformation)".
We have diligently undertaken each and every project, improving the value of "social assets" through our management solutions. In addition to "social assets", we address "the planet". The Omi merchant's "Sanpo yoshi (good for the sellers, the buyers, and the society), plus "good for the planet" makes it 四方よし "Shihou Yoshi".
With 四方よし "Shihou Yoshi" in mind in creatively managing diverse range projects, we move forward with you towards tomorrow.
We would like to express our sincere appreciation for your continued support.
Kazunori Mizuno
President and CEO